Have A Mould Problem?
It Might Not Be As Bad As You Think!
To See What We're Dealing With, First.
We'll provide you with a professional & honest mould assessment & remediation options without commitments or obligations.
Information For Tenants & Renters
If you currently rent or lease your premises, we require the property owner to approve of and be present for all inspections.
Please have the legal owner or representative of your property contact us to arrange a time for an inspection.
Don't wait & hope it goes away
If you think you have a mould problem...
Deal with it now before it gets out of hand.
When it comes to mould, dealing with it sooner rather than later is the most important thing you can do.
What starts as a small and easy-to-fix problem can quickly  become a much larger – and more dangerous – issue that can threaten your family's health and cost you thousands in potential fixes and repairs to your home.
If you suspect mould might be growing in your home, get in touch and we'll come out for a free visual inspection right away.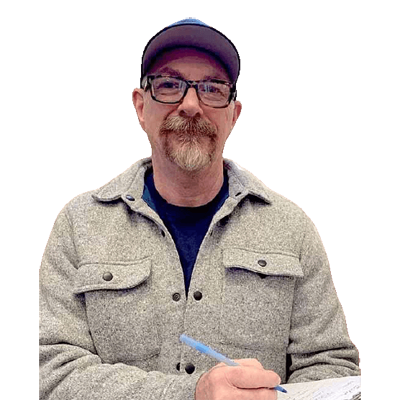 Mike Bashford
Owner of Get Rid Of Mould
a free visual mould inspection is our best tool
While you can always opt of paying for extensive air quality testing, we find that our visual mould inspections are usually enough to find the source of your mould and that professional testing isn't always necessary. It's for this reason that we never push tests and instead prefer to involve you while we visually inspect your premises.
Why Work With Us? That's Easy!
Effective Mould Inspection Services
Our Process Is Super-Simple!
We are experts at finding:
And we'll find it anywhere:
What Our Clients Have To Say


If you have a mould problem, Mike's your guy! I hope never to need his services again (as his work comes with a ten-year warranty). But if ever I have a mould issue, Mike will be my first call! He was quick responding, fair price, efficient, and knowledgeable. I loved how he talked to me like a human, having done several renovations and flips, I deal with a lot of trades and contractors - Mike is top-notch professional, friendly, and someone I would have over for a Sunday afternoon BBQ - he's that kind of guy! AND he does not great, but outstanding work!!!


When we found mould, Mike and his team at Get Rid of Mould, responded immediately. They assessed the issue and then worked with us on a time to get in and remove it. They were professional any questions we had were answered thoroughly!


Mike is professional, thorough, responsive and does amazing work. Our real estate agent recommended him and and I sam so glad she did. We are having Mike back to our current home to help with some remediation there too!
Our Clients Trust Us For A Few Reasons:
Let's start the conversation
Getting In Touch With Us Is SImple!
Just send us a few details – and a little information about what you're experiencing – and we'll call you to arrange a time for us to come out and perform a thorough visual mould inspection.
Our visual inspections are provided free of charge and you are also under zero obligation to use our mould remediation services.
This website is secure, so your information is always safe and we never share, sell or trade it with any third parties.
We look forward to hearing from you!
With locations in Niagara Region and Durham Region, we are able to quickly offer our services to homes and businesses right across the Golden Horseshoe and Greater Toronto Areas.